The Flexbench
The Flexbench is a high end multi-functional bench for specific training activities using barbells, dumbbells and small accessories, as well as for bodyweight exercises. 
It has multiple positions to adjust the seat, as well as the backrest. It comes in a matte black finish with black synthetic leather.
Length: 1190mm / Width: 690mm / Height: 1300mm 

THE FLEXBENCH
The Ultimate Workout Bench
We all know how important a solid bench is for proper Strength Workouts. Made using commercial grade construction, the Flexbench can take on weights up to 150+ Kgs with ease.
There is no substitute
You can try all day but nothing matches the power and form of using a solid workout bench. We designed this bench, keeping in mind comfort, form and durability.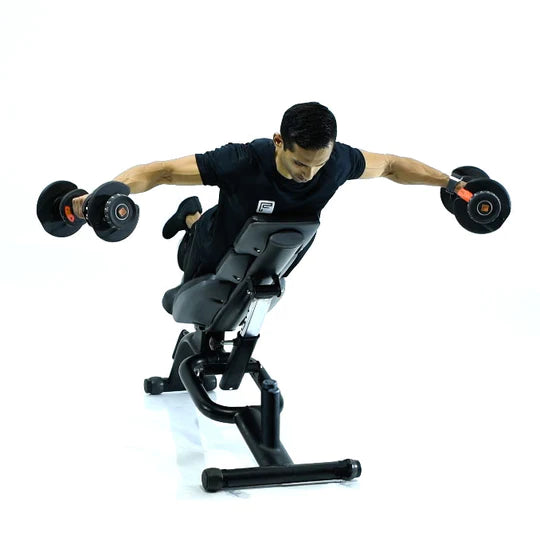 High Quality Construction
The Flexbench uses the highest quality industrial grade materials to ensure there's no stone left unturned during your workouts
All Day Versatility
With multiple positions for the seat as well as the backrest, the Flexbench can quickly take different shapes and forms to give you limitless exercise options.
Good quality and ergonomical!
I ordered it from the Flexnest website a few months ago. So far it's been perfect. Good quality material and ergonomic.
Best
Love how easy it is to use. Definitely worth the investment.
Top Class
This Bench has become a staple in my daily fitness routine.
Great machine for home gym
Its a great machine for easy workout. Very easy to assemble. Value for money as well.
Strongly recommend to everyone looking for home gym